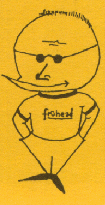 This is merely done in fun… please take it as such. Apologies to the Molson people.
---
Um… hi. I'm not a student or into computers.
I don't live in Toronto or eat Pizza Pizza or own the Indie tape.
And I do know Norg, Gobo and Pureguava… they are really, really nice *guys*.
I'm part of a community, not a "fan club."
I sing in English and in French, not just English and I pronounce it "Mahksee Froovus" NOT "Mopy Fruitloops."
I can proudly say I've found the love of my life at a concert.
I believe in caffeine not sleeping, banjos and accordions not flashy dance numbers, and that the BUDGIE is a proud and noble drawing!
A Poland is a keyboard, a doumbek is a drum, and it is pronounced "zhee-ahn" not "John," "zhee-ahn"!
Früvous is the best band to follow! the first band of glam-folk! and the second best part of CANADA!
MY NAME IS SNOW AND I AM A FRÜHEAD!
---
The Original Molson Ad:
Hey. I'm not a lumberjack, or a fur trader.
And I don't live in an igloo, or eat blubber, or own a dogsled.
And I don't know Jimmy, Sally or Suzy from Canada, although I'm certain they're really, really nice.
I have a Prime Minister, not a President.
I speak English and French, NOT American. and I pronounce it 'ABOUT', NOT 'A BOOT'.
I can proudly sew my country's flag on my backpack. I believe in peace keeping, NOT policing.
DIVERSITY, NOT assimilation, AND THAT THE BEAVER IS A TRULY PROUD AND NOBLE ANIMAL.
A TOQUE IS A HAT, A CHESTERFIELD IS A COUCH, AND IT IS PRONOUNCED 'ZED' NOT 'ZEE', 'ZED'!!!
CANADA IS THE SECOND LARGEST LANDMASS! THE FIRST NATION OF HOCKEY! AND THE BEST PART OF NORTH AMERICA!
MY NAME IS JOE AND I AM CANADIAN!
---
Copyright © August 6, 2000 by snonsumr. All rights reserved.